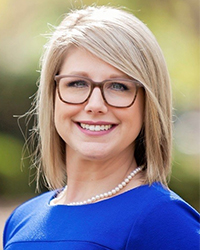 Executive Director, Chamber of Commerce
229-226-9600
Collaborative lady and founder of Southern Vines & Garden Market, Andrea Collins is a food critic wannabe, lover of all things creative, mother of one cupcake-eating little girl and energetic Labrador retriever, and wife to a handsome husband that keeps her in stitches. Andrea and her family moved from Georgia's Azalea City to Georgia's Rose City in April of 2017. Her business talents started at a young age and bloomed (pun intended) a bit more while enrolled at Valdosta State University.
After receiving a Bachelor of Fine Arts degree in Communication (public relations) and Masters in Public Administration, Andrea made a few twists working in various industries. Azalea City Florist, Easter Seals Southern Georgia (a not-for-profit organization), Comcast Spotlight (advertising company), and Southern Vines & Garden Market (floral business) introduced her to big ideas, plans and campaigns, consultative design and marketing services, business operations, community service, and most importantly, customers.
With more than 15 years of expertise in marketing and public relations, Andrea is driven to translate shared concepts into action to maximize results for the common good of the people within the community. She pairs a broad range of creative leadership experience in brand strategy and development and B2B/B2C marketing, with a deep understanding of consumer behavior to create effective campaign solutions and entrepreneurial growth.
Well before the path of her marketing career, Andrea turned her "therapeutic" floral design skills into a profitable, niche business. The marketing experience should have come first, however, mistakes were necessary for growth. Her experience as a small business owner sparked the desire to help fellow entrepreneurs strive and thrive in the ever-evolving and competitive marketplace. The stepping-stones in her career have shaped who she is and what she does for her community today.
When not working, Andrea can be found wandering the outdoors, cutting blooms, enjoying yet another floral design project with her daughter, Cate. When time permits (rarely with a little one), she and her husband, Colby, find the joys of nature on fishing and hunting trips. She has a passion for all things old and still full of life; it's never a surprise to find her on a scavenger hunt for antiques thinking up something fabulous to purchase for the interiors of her family's new home.